Tis the season to deck the halls and with all those design websites and Pinterest boards there's plenty of sources for inspiration. It can even be overwhelming. Let me help you narrow it down with some of my favorite holiday decorating techniques.
Trees
Have fun with color!
This year think outside of the box. Brighten up your space with color combinations like turquoise, silver and green. Or add drama with black, white and red.
    Via laurabielecki.com
Via HGTV.com
Kids Tree
Get a second tree for the kids to decorate and showcase those precious family ornaments.
Living Room Accents
Pillows
Highlight your fabulous tree design with matching throw pillows. Looking for a more budget friendly approach? Use silk ribbon to tie your existing pillows like a present.
Via BetterHomes.com
Window Dressing
Wreaths, Garland and Mirrors… oh my! Hanging wreaths over windows is a classic look, but why not try star-burst mirrors instead? Tres chic!
Via accentondesign.net
Entry
Front Door
Make your home standout with multiple wreaths or try playing with different shapes.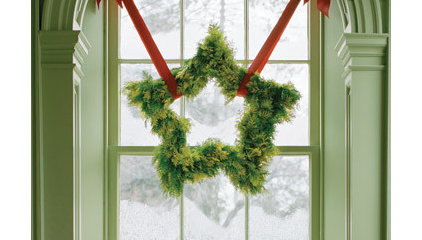 Via MarthaStewart.com
Foyer
Add a wreath over a mirror to coordinate with your tree.
Via Southern Living Magazine
Via MarthaStewart.com
Rejoy Interiors is now offering holiday decorating services. Space is limited so contact us today!
Give the gift of a beautifully designed home with gift certificates from Rejoy Interiors. Call to order today! 949.679.2824